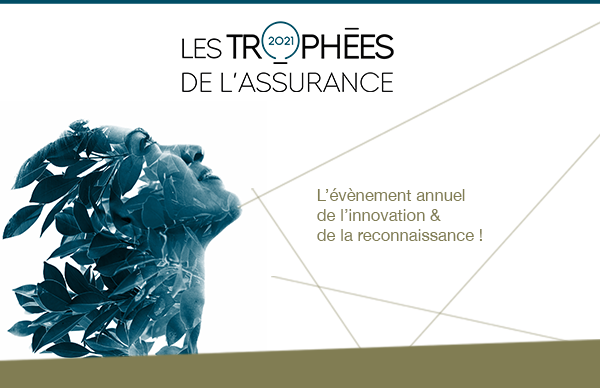 Nous organisons la 20ème édition des Trophées de l'Assurance, évènement professionnel visant à valoriser les acteurs du secteur de l'Assurance. Vous êtes assureurs, assisteurs, bancassureurs, courtiers, institutions de prévoyance, fédérations, mutuelles, mutuelles d'assurance, réassureurs, startups…
Vous avez une ou plusieurs innovations : 
Produit, Service, Marketing, Communication (interne / externe), Relation Clients, Technologique, Citoyenne, Distribution, Affinitaire. Sur le périmètre de l'Assurance de Personnes et Vie, Epargne, Retraite et Assurance de Biens à destination des particuliers ou des entreprises (B to B, B to C, B to B to C).
Nous vous invitons à concourir en renvoyant votre dossier complété et annexes avant le 31 juillet 2021.
A cette occasion, seront également décernés le Produit de l'Année, le Service de l'Année, la Meilleure Expérience Client "IARD », la Meilleure Expérience Client "santé" par les Assurés, le Trophée de la Personnalité de l'Année, le Trophée du Jeune Manager et le Trophée du Startupper de l'Année.
La cérémonie des Trophées de l'Assurance aura lieu le jeudi 30 septembre 2021 à Paris (sur invitation).
Un Jury exceptionnel présidé par Corinne Cipière, Chief Customer Officer / Membre du Comité Exécutif en charge de l'Unité Service Clients – Allianz France et Eric MAUMY, CEO du Groupe APRIL.
Dossier de candidature et règlement sont à télécharger ici, pour tout contact adresser un mail à Emmanuelle Lambijou.
En partenariat avec : AF2A, ASSUR and Co, CGI, Coyote, Les Furets, Mutuaide, Packsolutions, precisely, salesforce, Teleperformance, Wazari Assurances, zaion
Avec le soutien de : agéa, AAM, apref, CTIP, Filsocial.com, L'Assurance en mouvement, La Tribune de l'Assurance, La Mutualité Française, ROAM, Vovoxx.
Suivez Les Trophées de l'Assurance 2021 sur Twitter ou LinkedIn